Web Stories are full-screen tappable pages powered by AMP. Google web stories can help to improve SEO ranking. They let you create interactive visual narratives that are great for visual information. Stories are immersive, sharable, and trackable. They can now be added to your WordPress website thanks to a plugin from Google. In this plugin overview and review, we'll take a look at the Google Web Stories WordPress plugin and see what it can do.
While we are discussing wordpress plugins that can improve SEO take a look at the article on Rank Math plugin.
What are Google Web Stories?
Google Web Stories is a new form of Accelerated Mobile Pages (AMP). It is content that is meant to be consumed in small chunks.
Each page of a Web Story contains a maximum of 10 words. The recommended size of a Web Story is between four and 30 pages.
Publishers can monetize Web Stories with affiliate links, Google Ad Manager and Google DV360 (Beta).
Web Stories are meant to be consumed by mobile users who want to consume content at a glance. Google describes the typical content consumer as someone on a subway or having lunch.
Google Web Stories is open source and free.
Google web Stories WordPress Plugin
Google announced a WordPress plugin to help publishers gain more traffic through the Web Story format. The WordPress plugin and the Web Story program are both in beta.
A final version of the Web Story WordPress plugin will be released later this summer, 2020. The current version of the plugin is missing animation and page attachment support. The final version will contain all features and be smoother than the beta version.
Snackable Content
The point of the Web Story is what Google calls, snackable content.
Videos are recommended to be no longer than 15 seconds long and they should feature subtitles.
Google specifies that videos should be shot in portrait mode, not in landscape mode. That way they will display full screen on a mobile device.
Why google web stories improve SEO?
The Web Stories content and design are a good fit for blog content on WordPress websites. The plugin integrates them into your WordPress website and helps bring in traffic through the Web Story format. Google web stories can improve SEO
They even help improve your SEO and rank high in Google search, Google images, Google Discover, and the Google app, making Web Stories a great way to improve WordPress traffic.
Installing the Google Web Stories Plugin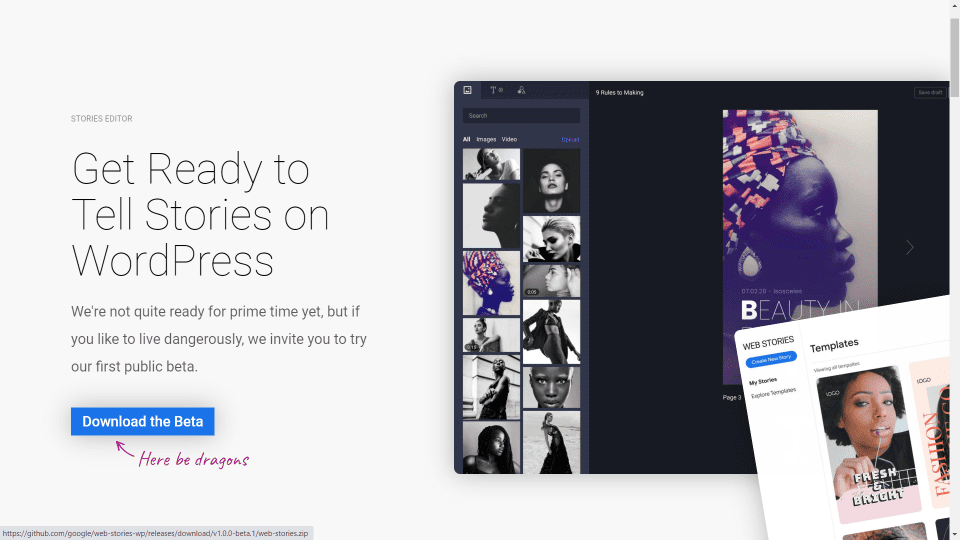 Download the free beta plugin. This is a public beta plugin, so most of the main features are there. The full version will release later this summer. It will have better stabilization, performance and bug fixes, and include animation and page attachment support.
Since it is beta, you'll have to download the file and install it manually following these steps:
Go to Stories Github page and download the beta plugin
In the WordPress dashboard, go to Plugins > Add New
Click Upload Plugin

Select the zipped file from your computer

Click Install Now
When you see "Plugin installed successfully", click Activate Plugin
But there's nothing ephemeral about Web Stories. Google's take on the story format has the permanence of regular content. You needn't look further for proof than CNN's Mobile Visual Stories page, which contains Web Stories that date back as far as 2017.
What's different with Web Stories for WordPress is that Google has finally released a plugin specifically designed to let WordPress users create and publish Web Stories from their website's backend. Up until now, Web Stories were created through the AMP app or third-party story builders. With the Web Stories WordPress plugin, Google brought official support for Stories to WordPress.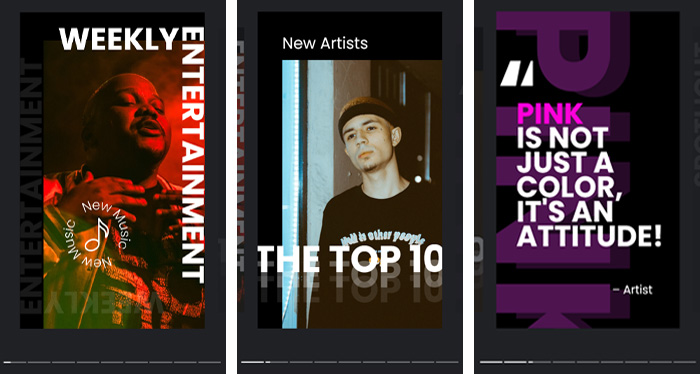 But why should you care about another type of content when you already have so many ways you can attract audiences and communicate information? A story needs more visuals than your average article, and you know how hard and expensive it can be to find good photos for your content, right?
The simple reason to use Web Stories is that they're unlike any other type of content. Here are a couple of things that make them special:
They are a mobile-first type of content. Stories are created to appeal to mobile viewers, and mobile viewers make up the majority of organic search engine visits.
They come with support from Google. They'll appear in search results, image results, and Discover.
You can use them to monetize your content. You can add affiliate links to your stories, although Google recommends adding only one link per story.
They support a variety of content. You'll be able to use almost any kind of content you have on hand for Stories, including video and animations.
They benefit from Google's AMP project. Even though AMP has its controversies, Web Stories will benefit from faster loading speeds.
So not only are they easy to create and publish, but they can also rank for different types of search results and cater to a growing body of web users.
Plus, you can use them for advertising, which is just the type of cherry on the top you'd expect from Google.
All videos must have captions so that a user can watch the video and read along with it. The presumption is that the user may not be in a situation where they are able to hear a video, such as in a public place or somewhere loud where their attention is divided.
Google recommends that text be a minimum of font size 24 and that each page contains no more than 200 characters.
Conclusion
WordPress users can start experimenting with the plugin to test this feature. However, do keep in mind that this is a beta version and does not contain all the features. Also, there are high chances that it might contain bugs. It is advisable to test this plugin on a staging site to prepare for the future release. Google web stories can improve SEO.